Backyard Oasis – Spring in Indiana
Ideas for a Backyard Oasis
We're dreaming of a backyard oasis and warm weather about this time of year in Indiana! One where the firepit is more for ambience and to stave off the chill of a spring night. Are you ready?
We've all become a bit more aware of our homes and how they function for us and our families. If the pandemic has taught us anything, it's that we want our homes to be functional yet relaxing and welcoming.
We are spending more time at home – home buyers are looking at potential homes through the a different lens since last year.  They want multiple spaces where they can work, relax, watch movies, eat dinner and more!
Creating a backyard oasis is a great way to enjoy being home – especially this spring and summer.
Home buyers are also looking at potential new homes and all that they offer.
Here's a few ideas for you!
Backyard Oasis
#1 – Lighting
Enjoy your patio into the evening hours by putting up ambient patio lighting. If you already have a place to attach the lights, GREAT! If you have an open patio, you an still achieve the effect by using planters with poles.
The DIY Network has instructions for creating your own planter posts for sting lights. Pretty simple process with beautiful results!
Now you can hang those patio lights you've always wanted!
If you aren't a DIYer, we've seen them on Facebook Marketplace for sale, too!
#2 – Expand Your Space!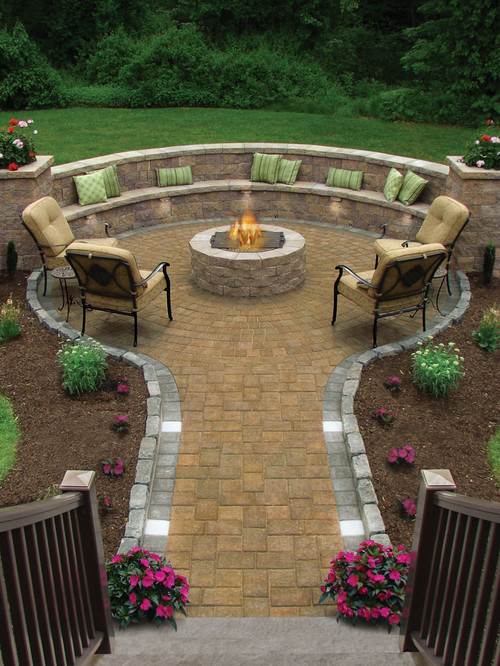 Some homes are so gorgeous on the inside, no area left untouched! However, a lot of us have found out through the pandemic, that we want an awesome outdoor space, as well. An oasis we can spend time with friends and family and enjoy the sunshine, sunset and evenings.
A lot of the newer homes have a "patio" which is actually just a small concrete slab. Not a lot of space for furniture or grills!
Enlarging a slab is a great option. You can continue it with more concrete or what if you surrounded it and built it out with a paver patio? More affordable than concrete, typically, it also gives you a chance to choose a color, texture and shape that works for your design taste!
You can add other areas off your main patio to give you more options. What about a firepit area for dusk and evenings?
Pour another concrete pad(s) off the main one to create a intimate conversation area. The possibilities are endless in customizing your backyard oasis!
Even if you have a deck off the back of your home, an additional patio is always welcome!
Think of it as creating different zones:
Firepit
Cooking
Eating
Conversation
Double Swing
Coy pond
Playset
Investing in your home to make it more in keeping with your lifestyle or the lifestyle you want is worth it. Memories in the making…
#3 – Covered Patio Spaces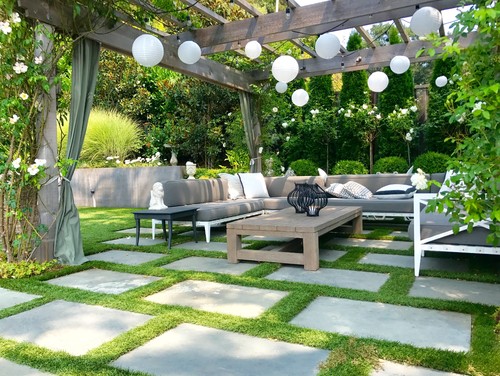 It's always nice to have at least a partially shaded area in your backyard. If you don't have a lot of mature trees, you do have other options.
Consider a pergola, canopy or shade sails over the dining area or conversation area. All these options are great and usually cover more area than an umbrella.
Pergolas can be as casual or as fancy as you like. Add an outdoor chandelier and some rope lights to add to the atmosphere. Pergolas and canopies can also have outdoor curtains added – whether for looks or to help protect from the occasional summer rain, they make the areas look inviting and custom!
You can also add lighting to canopies and shade sails. Giving yourself, your family and friends some shaded area lets them enjoy the outdoors that much longer!
What's Your Favorite Feature?
And when will you add it?
Come on! It's time to start enjoying our outdoor space to the fullest. What's your backyard oasis look like?